Drums - Adri Ellen
Guitars - Mae Reyes & Simone Smith
Bass & Vocals - Mary Saragoussi

all songs Written by Mary Saragoussi
and Arranged by Adri Ellen, Mae Reyes, Simone Smith, and Mary Saragoussi

Produced by Mary Saragoussi
Additional Production by Mae Reyes

Recorded by Lazaro Pina (Ill Nino, Shang-Hi Five) at Hi-Fi Recording, Hoboken NJ
Additional Recording by Jamie Baker at J. Baker Studio, NYC
Mixed and Mastered by Ross Baratta (Trixter, EZO) at Toneworks Studios, Lodi NJ

All songs copyright 2000 MS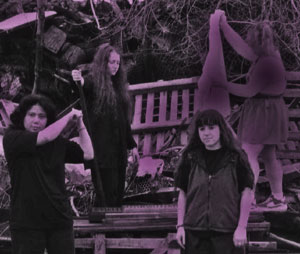 The people who played on the MYLAR EP (L-R: Mae, Mary, Adri, Simone).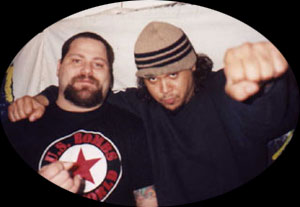 Billy Milano of S.O.D. drops by Laz's studio during our recording session.