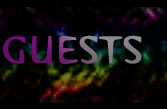 ---
Name: Joseph Mulhollen e-mail Homepage
From: Alfred, NY
Date: Oct. 28, 2002
Referred by: A game of internet tag
Message: Hey Mary... That was indeed Lindsey who signed your guest book before, but thank you for signing mine. Your web page is nice. I like it... I'm intrigued by your music. I just may purchase a copy of your album. Rock on!!! ever so, joseph mulhollen
---
Name: Moe
From: Here
Date: Oct. 18, 2002
Message: It took me a while to get it, but I now see that you are about ten years ahead of yourselves.
---
Name: Darryl
From: Saint John, NB,Canada
Date: Oct. 13, 2002
Referred by: Garageband.com
Message: Happened upon your band at garageband.com. You rock. Keep it up.
---
Name: David Jacobs homepage
From: Brooklyn N.Y
Date: Oct. 5, 2002
Referred by: Terracon
Message: You Girls kick ass! Were looking foward to playing with you at our next show. TERRACON
---
Name: lindsey chloe homepage
From: earth, most of the time connecticut
Date: Sept. 27, 2002
Referred by: my intuition
Message: through some searching through the internet gloom I found you! i'm so glad to see that the band is playing shows, be sure to keep me updated. -love, z.
---
Name: Ar e-mail
From: NYC
Date: July 27, 2002
Message: nice show on wednesday... even tho i missed most of it *poo* -see ya around
---
Name: Kevin Homepage
From: California
Date: July 13, 2002
Referred by: surfed in...
Message: way cool site you have here. best of luck.
---
Name: Steve
From: Jersey City
Date: 25 June 2002
Message: Mary is the true ROCK godess!!
---
Name: Doug Homepage
From: new york
Date: 17 June 2002
Referred by: bruce dickinson, johnny depp,madonna
Message: angry robots invade the theatre ,,tonights feature MYLAR!!!!! buy mylars cd now!!!its time to make some major adjustments in your meaningless lives!!!!)))(((the cure))) MYLAR finally something original!!!!
---
Name: robert
From: ca
Date: 30 May 2002
Referred by: google
Message: Great site, ill check back soon to see whats new.
---
Name: Gawd e-mail Homepage
From: SINcy
Date: 13 May 2002
Referred by: mp3.com charts
Message: Have you ever had a dream, but when you woke it was gone? Have you ever seen something move, but when you turned to look it was nothing? Have you ever hummed a song you don't know how you knew? We are that dream. We are that movement. And we play that song. We are...A Theory of an Isolation Effect. Welcome.
---
Date: 17 Apr 2002
Message:Just a heads up guys, you may want to apply for a trademark on your band name in relation to music. DuPont's trademark lawyers are on a rampage, I'd rather not see them hassle anybody else like they are me.
---
Name: ed-D e-mail Homepage
From: within nuclear blast radius of NYC
Date: 15 March 2002
Referred by: the voice in my head
Message: Dearest MyLaR MuSeS: I keep missing you live and it sucks. Hmmm,well i hope to check yer aRt live soon. I'm not very "here" before or after a gig,if you know what I mean. I'm really anti-social,well yes I am,HAHAHAHAHA. Anyway you ladies kick ass and take names. Leave it to the gRrLs to have such insane timing/chops without getting wanky. In a sea of wanna-be's,clones,fakes,poseurs and wankers you shine and stand apart and above the sea of NYC contenders.Peace.....eddie/lowenD-MahavataR
---
Name: TIffany Capps
From: Hell, west virginia
Date: 11 March 2002
Message: KICK ASS SITE! I hope to see you guys in NYC sometime! Been wanting to see Adriellen do a show for 3 years now! She kicked ass on my set this summer at my place! Bought the CD and its one of my faves!!!! ROCK ON!
---
Name: Angelique website
From: Long Island
Date: 24 Feb 2002
Message: Hi Mary, I can't wait til the 29th!! ;) Gonna be awesome. Looking forward to the show.
---
Name: Richard Santi email
From: North Carolina
Date: 22 December 2001
Referred by: the voices inside my head
Message: Mary, glad to see you're still rocking. I might be in the city around New Year's... maybe I'll see ya around. Aloha.
---
Name: Ar email url
From: NYC
Date: 08 October 2001
Message: kickass site..waay better than last time i was here (last year i think?) ... anyhoo... G.R. sux i got kicked out for my stats... bummer.. . ima try to make it out to your 10.14 show... ROCKITHARDBABY! -ciao, ar
---
Name: Becky Sheridan e-mail
From: The dustMites
Date: 26 September 2001
Message: Mylar kicks ass! We want to play with you again!
---
Name: Jeff Mullen
From: Washington DC
Date: 10 August 2001
Message: Mary is a rock goddess!!! See ya @ AES.
---
Name: Marou
From: Quebec, Canada
Date: 19 July 2001
Message: WOW!!! Mae!!! IDOL!!! I'm sooo happy

---
Name: Brian Homepage
From: anal
Date: 04 July 2001
Message: wicked

---
Name: Ian Bell
From: NYC
Date: 22 June 2001
Message: Hey, glad to see you're still rockin out. We should do some shows together sometime.

---
Name: Don Merrill e-mail Homepage
From: Florida
Date: 11 June 2001
Message: Very nice site.

---
Name: Leigh
From: California
Date: 9 June 2001
Referred by: a friend
Message: Cool site. Rock on!

---
Name: Chris M
From: Bayonne NJ
Date: 28 Mar 2001
Message: Cool site! I'll have to check you guys out sometime.

---
Name: Pete Homepage
From: NYC
Date: 14 Dec 2000
Referred by: 316 Productions
Message: wow!!!! thats all i have to say is WOW!.......i'm fucking floored. really good stuff. this is the first time i have ever listened to you guys and to make a long comment short, expect my money coming to you soon, you are worth a whole lot more than you are charging for the awesome tunes....glad you added snippets so that i could sample what mylar sounds like. check my site @mp3.com ......lemme know if you would like do something with us (five cent hero) in the future. keep it d.i.y.!!!!! may you get all the great shows you could wish for!! -pete-(fch)
---
Name: hizEd e-mail Homepage
From: Island that is LONG
Date: 26 Nov 2000
Referred by: I dunno how I got here
Message: Phat damn.....I went to Fredonia, played in a band there...I sort of knew Mary....the music is very cool...I add a lot of dots to text...check out TOFUMOFO...keep music original...Destroy corporate rock!!!!
---
Name: Patrick Delaney
From: Phoenix, AZ
Date: 19 Nov 2000
Referred by: Simone
Message: I'm impressed! I'm older and typically not into this type of music, but with this group......I might be!
---
Name: Danielle
From: New York, NY
Date: 29 Oct 2000
Message: Mary rocks! See you at the meow mix!!!! (save the dwarf-elves)
---
Name: Marlon e-mail Homepage
From: Chicago
Date: 27 Sep 2000
Referred by: Fil-am music
Message: Was surfing through some of the sites that were sent to me via the Fil-Am music e-group. I'm diggin' what you're doing! Keep up the great work! rock on! Marlon
---
Name: Alex S.
From: Queens N.Y.
Date: 24 Sep 2000
Message:Look forward to seeing them play soon, will be an experience that won't be forgotten.

---
Name: Bum
From: NyC
Date: 17 Sep 2000
Referred by: Toni
Message: Man oh man oh well good luck girls......... Rock ON!!!

---
Name: Alex e-mail Homepage
From: Jacksonville, FL
Date: 17 Sep 2000
Referred by: Sarah's profile
Message: Good site. I wish i could go see you but I can't so I won't cuz I'm in Florida. Damn Florida sux ass. Stay away unless you're coming to rescue me. Anyways, keep up the good work and laters.

---
Name: Steve
From: London
Date: 09 Sep 2000
Referred by: Surfed in
Message: I am speechless.

---